---
How to Connect a Soundbar
2/3/2022 2:48:14 PM GMT
---
---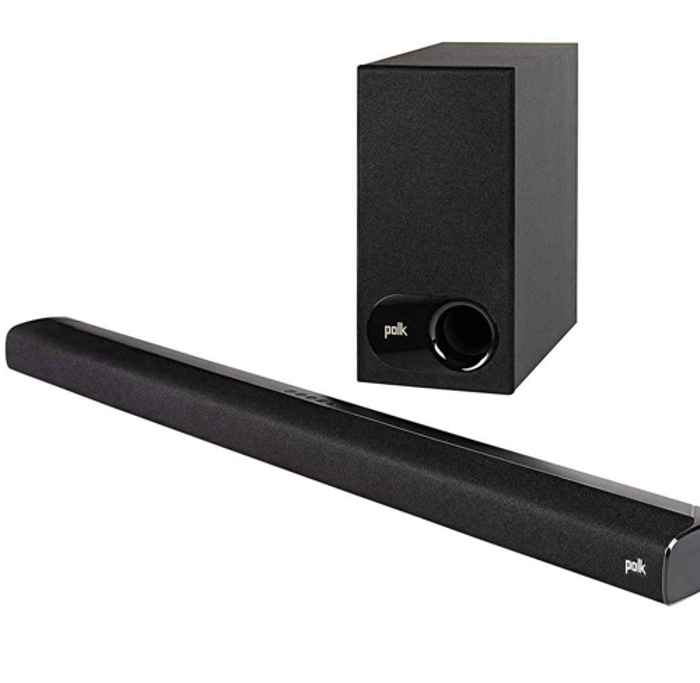 Easy solutions for connecting a soundbar.
What's a Soundbar?
A sound bar is a narrow, elongated enclosure that contains multiple individual speakers placed side-by-side. It can be mounted on the wall above or beneath your TV, or placed on your TV stand in front of the television. Today's soundbars have an amazing capacity to produce a cinematic sound experience that could only previously be achieved with a full-blown component system.
That's fortunate, because with the exception of a few very high-end (read expensive) TVs, a TV's sound system stinks. Plus, a soundbar is much easier to connect and less expensive than an equivalent component system; not to mention you don't need the space and supporting equipment a component system requires.

Regardless of the age of your TV, it almost certainly has connectivity options that will allow you to utilize a soundbar. Bottom line - soundbars with a wireless subwoofer is easy to connect. With that said, here's everything you need to know about connecting and tuning your new soundbar so that you can start listening to movies and shows the way they were intended to be heard.
What Ports do Soundbars use?
Generally speaking, you'll be connecting your soundbar to your TV's HDMI-out port or its optical port. Using an HDMI port is the preferred method, and you'll probably only need to consider an optical port if you have an older TV.
Many TVs, and certainly all the best TVs, will have more than one HDMI port. Always use the HDMI port marked ARC or eARC if there is one, as that will send the highest-quality audio signal to your soundbar. Otherwise, any HDMI port will work. If you can't use an HDMI port to connect to your soundbar, then connect the optical port on your TV to the optical port on the soundbar.
A soundbar with ARC or eARC support will have one or more HDMI ports. As with the TV, always use the HDMI port marked ARC or eARC if there is one. Any extra HDMI ports on your soundbar are used for plugging in 4K Blu-ray players or game consoles for sending high-quality audio directly to the soundbar.
Typically, the best sound bar will come with HDMI cables already in the box. but make sure you check beforehand because some companies will leave purchasing the cables up to the customer. Good HDMI cables don't have to be expensive. Check out our guide on how to select HDMI cables to make sure you get a good cable without overpaying (they generally cost around $10.00).
What else do I need to do?
Although there are some notable exceptions, the vast majority of soundbars come with a wireless subwoofer to generate the low-base sounds generated in today's video signals, especially from movies or when you're playing music through your soundbar. Installing a subwoofer couldn't be any easier.

Once you've connected and turned on the soundbar, simply plug in the wireless subwoofer and it will automatically pair with your soundbar. That's it, you're good to go. And because it's wireless, you can place the subwoofer anywhere in the room to accommodate your furniture layout.

Some soundbars also come with wireless rear satellite speakers, or rear speakers that can be purchased separately for surround sound, rather than producing virtual surround sound through the soundbar. Like wireless subwoofers, after you've placed them in a convenient place, they'll automatically pair with the soundbar once you've plugged them into a power outlet.
What if there's no sound?
If you can't hear sound after connecting and plugging in the soundbar, you should:
Check the soundbar's volume level using the soundbar's remote.
Double-check that your cable is properly seated into the ports on both the TV and the soundbar.
Using the soundbar's remote, check to see if the input on the soundbar is set to the type of connection you made with the TV, HDMI or optical. If not, change the input on the soundbar to match.
If you're not using HDMI ARC/eARC ports, go into your TV's audio menu and switch from 'TV speakers' to 'external', 'receiver', or 'optical'.
If you made the connection using HDMI with ARC/eARC, make sure the connected ports on both the TV and soundbar are labeled as such.
Although most soundbar installations come off without a hitch, these steps should solve the vast majority of glitches that might occur. In the rare case that you still cannot receive sound, it's time to contact the manufacturer's support department referenced in the soundbar's manual.
One other item that sometimes trips people up is a concern that the subwoofer isn't producing sound. With today's technology, soundbars and subwoofers can work so well together that it can be hard to tell that the subwoofer is working. The easiest way to check is by placing your hand against subwoofer's speaker surface while watching a movie that's putting out decent bass.
If the speaker is vibrating, you'll know it's well synced up and working with the soundbar. If it's not vibrating, try unplugging it and plugging it back in to pair it up with the sound bar again. Also check to see if the subwoofer has its own volume control on the soundbar's remote, making a simple volume adjustment might be the solution.
Does my TV and Soundbar brand need to be the same?
Some manufacturers claim advanced capabilities when using their brand for both devices, but in the real world, if you're connecting ARC sound bar and TV with an HDMI cable on ARC/eARC ports, you'll be able to control the soundbar through your TV's remote, and you'll be able to pass the best audio signal your devices are capable of processing.

In fact, in our review of the best soundbars available, we recommend and encourage you to pick the best soundbar that matches your needs and budget, regardless of whether the brand is the same as your TV.