---
---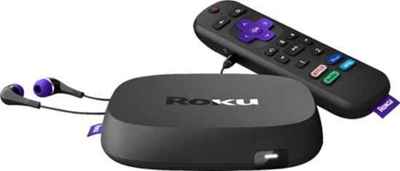 The Roku Ultra runs on a very fastest processor, providing smoother performance and less wait time for streaming content to load. Performance is further enhanced with a powerful dual-band WiFi antenna built into the Roku box for a stronger wireless signal. If you're near your router, you can make a wired connection via the provided Ethernet port. Roku Airplay compatibility is also built-in. Almost all available streaming services are accessible, including Apple TV on Roku and AppleTV Plus.
The Roku remote communicates over WiFi, so you can place the player inside your entertainment cabinet and still have full control. A "Mic" button on the remote gives you voice command capabilities, and is compatible with Alexa, Siri, and Google. An included pair of earbuds can connect to the remote, allowing you can watch TV without disturbing others. The channel interface is simple, with customizable channel access, and easy to navigate.
Also available is a free Roku mobile app that lets you operate the player using your Apple® or Android™ device. The app lets you setup the player, choose your shows, and control everything else from your phone if that's your preferred remote control method.
Overall, we rate this the best streaming device and the perfect match for the best streaming tv service. This device's capability is already built-in to the Roku Soundbar.