---
How to Setup Your Roku Device
2/1/2022 6:17:56 PM GMT
---
---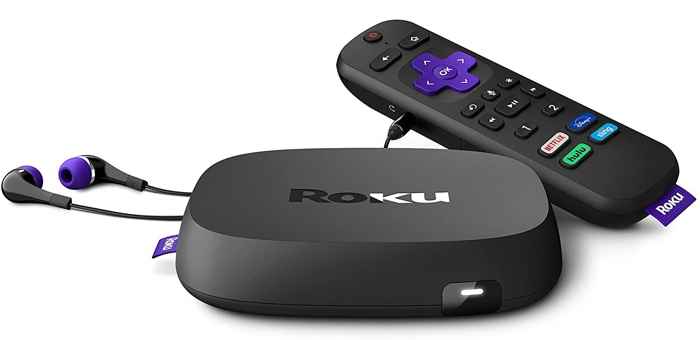 Manage Subscriptions & Control your TV with Roku.
In our review of TV Streaming Devices we found the Roku Ultra and Roku TV Stick 4k+ to be the best streaming device available, plus to setup Roku was a simple straight-forward process.
Before you start, you'll need a computer, tablet, or smartphone to setup your Roku device, as you will be required to connect to a website to complete the set up.
All TV streaming devices connect to the various streaming networks via the internet, so have your router's network name (SSID) and network password handy.
Also, make sure you insert the batteries into the Roku remote control.
Here is our Step-by-Step guide for setting up your Roku Device.
Plug your Roku device into one of your TV's HDMI ports.
(Do not use the ARC/eARC HDMI port)

Plug your device into a power source.
(AC outlet for the Ultra & USB for the Streaming Stick 4K+)

Select a language from the "Let's get started" screen displayed on the TV using the remote control.

Select whether you have a wired or wireless Internet connection. (You will connect to the Internet wirelessly via your router unless you have a Roku Ultra that is right next to your router.) Follow the wireless connection instruction on the TV's screen.

Select "use automatic" when prompted to select your "HDMI Connect Type" on the TV display. (In the unlikely event the Roku Device does not correctly identify the right connection, choose the type that matches your TV's HDMI port according to your TV's manual.

Select "Check remote settings" when prompted on the "Control your TV" display on your TV screen. (Follow the instructions on the screen to pair the remote to your TV. If you have more than one Roku device, make sure you can identify which remote is paired with which TV.)

Enter your email address when prompted. - This will setup your account with Roku so you can manage your streaming subscriptions after set up is complete. (Roku will also send you an email with a link to activate your device on their network.)

Open the email Roku sent you in the previous step and click on "Roku Device Activation Link". - This link will take you to the Roku "Create your Roku account" web page.

Follow the instructions on this page to setup payment information, select streaming channels, and more.

Once you have completed your Roku account setup, your account information will automatically begin downloading to your Roku Device, along with any available software updates. (This may take a few minutes)
That's it, your Roku installation is complete! You should be good-to-go once the download is completed, and be ready to enjoy all the Roku compatible streaming services and Roku TV channels, which is pretty much any that are publicly available.
Also, the Roku TV setup is the same as if you were setting up a Roku HDMI device, and the remote for Roku TV works the same as the remote for a Roku streaming device. If you have a Roku Soundbar, you won't need to do any additional set for Roku device or Roku TV to control the soundbar.
One last thing, you can also download the Roku Remote App from the Apple or Google stores, which functions the same as when you set up Roku remote. The Roku app also lets you add channels on Roku and edit your watch list.